Vacation on Sandy Hook at Historic Fort Hancock, NJ!
Located in Gateway National Recreation Area on the Beautiful Jersey Shore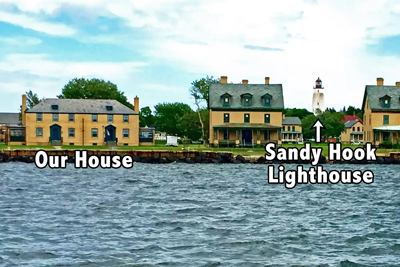 At the tip of lovely Sandy Hook, the magnificent homes of Officers Row at Fort Hancock will be available to rent for the first time in their storied history. The National Park Service has enabled these historic homes to be renovated as vacation properties, and the very first home was completed during the Summer of 2016. Both sides of this lovely duplex are now available for rent.
Be among the first to stay in this unique setting, surrounded by miles of sandy beach, nature trails and the history of Fort Hancock. In the shadow of the oldest lighthouse in the USA, you'll enjoy a vacation rental unlike anything you've ever experienced.
Here's The Latest Up-To-Date Information!
Check Back Regularly For Details As They Become Available
We're Featured in Jersey Shore Magazine!
We're excited to have been featured in the Spring 2017 issue of Jersey Shore Magazine! We know we're a little biased, but we really feel that this wonderful article captured the essence of just how special our home is. We hope you'll enjoy the article, and consider contacting us to arrange a Sandy Hook vacation of your own.
Read the article (in PDF format) or go to Jersey Shore Magazine online!
Historic Preservation Efforts Recognized
June 6, 2017 — The Monmouth County Historical Commission announces Brian Samuelson as the winner of the 2017 Preservation Award for his efforts completing the first preservation project at Fort Hancock! Read all about it on the Monmouth County website.
Come Along On This Comprehensive Video Tour Of Our Home!
Special thanks to videographer, historian and local talent John Schneider for this video.
Thank you for subscribing to our email list.