We're pleased to host so many visitors to Sandy Hook, but we're thrilled when they feel moved to review our home in such positive ways, letting others know about their stay with us.
We wanted to write from our family to say how much we enjoyed staying in 21B at Sandy Hook Rentals. It was such an enjoyable stay. We celebrated my son's high school graduation as he begins his journey to a higher education. We entertained 18 guests who came to spend a day and some stayed with us on the Hook in your lovely home. Everyone who came was in awe of the house and all that was available to do on Sandy Hook.
The renovation is gorgeous; loved the kitchen and the feel of the whole house. The bedrooms were very roomy along with the bathrooms; it was everything we could ask for! The unit is so well stocked and the furniture so comfortable. The views are amazing, especially the sunsets –and having access to all the Hook offers: nature, history, the beaches made the week so incredible. The house was stocked with everything we could ask for: bikes, beach chairs, barbecue etc. Having met you, and having gotten to know some of the park rangers made our stay even more personable. Sandy Hook Rentals will be a memory etched in our brains. Thank you so very much for making our family celebration such an incredible event.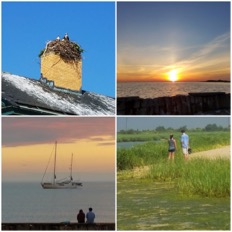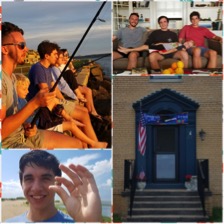 The Geier Family
Other Reviews We've Received
You can check out what others have to say about staying in our home by clicking one of the logos below:
Thank you for subscribing to our email list.